THE IDENTITY CARD OF THE PARK
- Date of birth: Regional Park - 1983
- Natural Park - 2002
- Site of Community importance (SCI) - 2003
- Special Protection Zone (SPZ) - 2003
- Managing body: a consortium between the parishes of Galbiate, Garlate, Lecco, Malgrate, Oggiono, Pescate and Valmadrera, the Mountain Community of Lario Orientale and the Province of Lecco.
- Surface area: 665 hectares
- Altitude: from 200 to 922 m a.s.l.
- Species of fungi present: approx. 300
- Species of plant present: approx. 1200
- Species of animal present: approx. 1000
CONTACT US
- Head office: Via Bertarelli 11 - 23851 Galbiate (LC)
- Tel. 0341.542266
- Fax 0341.240216
- E-mail:
Do you want to be updated about the activities of the park?
Send us your email, and we'll keep you informed.
MAP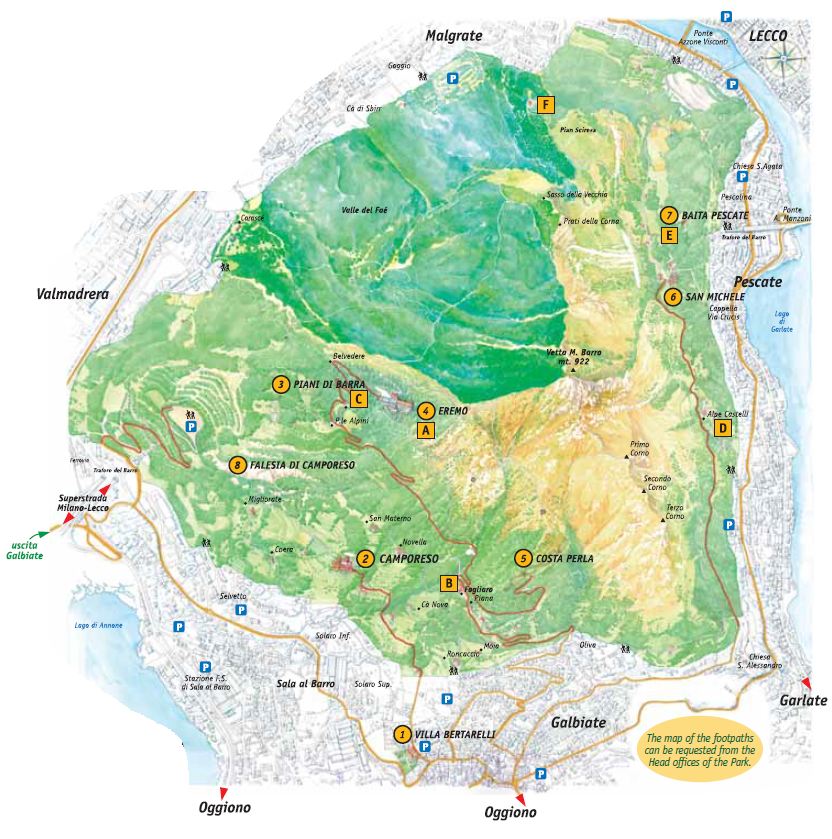 1- Villa Bertarelli - Head offices of the Park and of the CFA
2- Camporeso - MEAB
3- Piani di Barra - Archaeological Park, Gothic settlement ( V-VI centuries A.D.)
4- Hermitage (Eremo) - Park Centre with the Barro Archaeological Museum (Museo Archeologico del Barro - MAB) and dormitories - Saint Mary's Church (Chiesa di Santa Maria)
5- Costa Perla - Ex hunting lodge, home of the experimental ornithological station and of the annex of MEAB dealing with hunting and bird capture.
6- San Michele - The incomplete church of San Michele (XVII century) location for cultural events
7- Baita Pescate - Park Visitor Centre
8- Falesia di Camporeso - Cliffs with climbing ascents
A- The Hermitage restaurant of Monte Barro (Ristorante Eremo) Tel. 0341 240525
B- The Panorama Restaurant (formerly Madonnina) Tel. 0341 240587
C- Galbiate Alpine Lodge (Baila Alpini Galbiate) Open on holidays from April to September. Tel. 0341 240541
D- Eremo San Michele Restaurant Tel. 0341 353869
E- Pescate Lodge (Baita Pescate) Open Wednesdays and public holidays Tel. 334 3982112 or 331 7844489
F- Pian Sciresa Lodge (Baita Pian Sciresa) Open Thursdays and public holidays Tel. 0341 583520
In drawings:
- Access roads for the park (in yellow)
- Roads inside the park (in red)
- Start of footpaths (black symbols)
- Public parking (blue symbols)